In celebration of International Women's Day, Parlour X champions our female Creative Directors & Designers. 
1. ​SPARROWS WEAVE
Formerly a graphic and hospitality designer, Kirsty Siddle founded her company Sparrows Weave just over 5 years ago and hasn't looked back since. Kirsty discovered her love of Wicker handbags while holidaying to the Italian Riviera during her childhood. This love of simple, beautiful handbags has stayed with her and was the inspiration behind her brand.
Sparrows Weave creates luxurious wicker and leather handbags, and has recently expanded into ready to wear. Of the brand, Kristy says she intends it to feel like "a blue sky and white cloth flowing in the wind." Sparrows Weave has become synonymous with clean lines, and beautiful high quality finishes.
Pair a classic Sparrows Weave bag with your favourite pair of denim and a crisp white shirt to create an effortless everyday look.
2. Mother of Pearl
/ Amy Powney /
Since taking the reins as Creative Director at London based house Mother of Pearl, Amy Powney has overhauled the brand in her attempt to make it one of the most sustainable and ethical retailers on the market. Amy has made real changes, researching and understanding where and how her fabrics are grown, who is making them and how much they are getting paid and creating timeless designs that can be worn over again rather than following seasonal trends. 
Mother of Pearl are a London based luxury womenswear brand, specialising in classic ready-to-wear pieces. Creating masculine silhouettes with beautiful feminine detailing, Mother of Pearl describes their collections as "serious fashion, not to be worn too seriously." Mother of Pearl are leaders in sustainable fashion, creating pieces that will be in high rotation in your wardrobe for years to come. 
Pair together any of your favourite Mother of Pearl pieces and create an environmentally sound outfit that you can both look and feel good in.
/  Gabriela Hearst  /
Gabriela Hearst is truly a force of fashion. She was raised on her family's 17,000 acre range in Uruguay, and left for New York in 2003. Since then, she launched her own namesake brand in 2015 and late last year was named Creative Director of French luxury house Chloé. Gabriela's first collection for Chloé, which she lovingly nicknamed Aphrodite, launched last month and has already decreased their environmental footprint by 400% compared to last winter's line.
What should be a staple in any women's wardrobe, Chloé is a brand that can be described as eponymous with elegance. Founded in 1952, Chloé changed the face of fashion, offering women with luxury ready-to-wear, a new concept at the time. In addition to creating romantic and feminine ready-to-wear pieces, Chloé has created some of the most sought after bags like the Marcie and Darryl bags. 
Create a beautiful feminine look with the Puff Sleeve Knit Top paired with your favourite colour of the Marcie bag.
/ J.J.Martin /
JJ Martin is an American born, Milan based fashion editor turned designer. After working for the likes of Harper's Bazaar, The Wall Street Journal and *Wallpaper, JJ decided to start La Double J as a side project, selling her personal collection of jewellery and clothing. Quickly enough, La Double J took off becoming JJ's full time job. Of La Double J, JJ has said "This whole project has been very spontaneous. I'm just going with the flow." 
La Double J is inspired by all things vintage. Creating beautiful fashions and homewares, their aim is to modernise old styles and bring new prints to life. 
Why not try mixing and matching La Double J's bold prints paired with statement jewellery to make an everlasting impression at your next event.  
/ Kym Ellery /
Perth born Kym Ellery has become one of Australia's most successful designers. After studying fashion design and production, Kym moved to Sydney to work for Russh magazine. She started her brand Ellery in 2007 and it has since become internationally renowned for encouraging the personal expression of their clientele. 
The Ellery brand approaches the 1970's with a modern edge. Ellery is known for its beautiful cuts and high quality uses of various textiles. They're recently partnered with SLVRLAKE to produce a joint series of denim.
Partner a pair of the Ellery x SLVRLAKE denim jeans with a print top to show off a bold 1970's inspired look.
6. SACAI
Since childhood, Chitose Abe has been inspired by the Tokyo fashion industry. With the help of her seamstress mother, she inspired the other children at school by tailoring and adjusting all of her clothing. After working as a pattern cutter for Comme des Garçons, she founded her brand Sacai in 1999, and proudly still owns 100% of the business.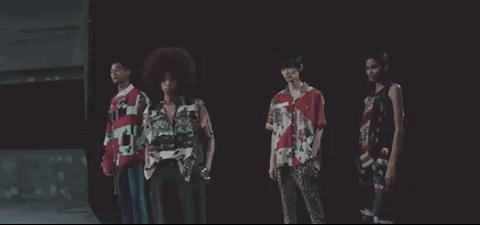 As Creative Director, Chitose's aim is to create clothes that are totally unique, timeless and experimental. Of Sacai's designs, Chistose has said "my designs are based purely upon my creative instincts." In 2019, Sacai released collaborations between Nike and Beats by Dr. Dre, tuning into the trend of street style we have seen becoming ever present the last few years.
Try one of Sacai's edgy pieces paired with a comfortable sneaker and handbag and create a street style look inspired by Japanese modernism.
7. Étoile Isabel Marant 
/ Isabel Marant /
Growing up, French designer Isabel Marant never dreamed of having a career in fashion. The thought only crossed her mind after she began designing clothes for her friends towards the end of her secondary studies. After she finished her schooling she interned for Michael Klein and since worked with Chloé before she launched her own collection in 1989. In 2014, she was deservedly named Contemporary Designer of the Year at the Elle Style Awards .
The Isabel Marant label is a mixture of the past and present, and is well known for its boyish details and bohemian elements. There is a poetic feeling about the label, and the house wants you to feel comfortable and confident in their designs.
Style focus: pair an Etoile t-shirt with a printed skirt, and a sneaker or slide for a modern take on a bohemian look.